I am pleased to post this news! My latest still life painting (as of July 28th) was selected by by art critic Brian Sherwin as a "Staff Pick" from all artwork recently submitted to the Fine Art Studio Online (FASO) website. It's certainly gratifying to have my work noticed in this way and to be included in the company of two very fine fellow artists, whose work is included in the article below. I thank Mr. Sherwin and the FASO Staff members.
My humble little copper kettle, recently purchased at the antique / thrift store only last week, is now famous! Who wudda thunk it??
( if you are interested in purchasing the Copper Kettle in a beautiful frame,
CLICK HERE )
by FineArtViews on 7/28/2015 9:55:40 AM
This article points to recent artwork featured on the FASO Daily Art Show. Our popular newsletter, FineArtViews is sent daily to more than 34,166 people. Our other newsletters, BrushBuzz reaches 3,555 and InformedCollector reaches more than 10,371. FASO artists who upload artwork each day are featured in these newsletters the following day. If you already have a FASO website (even if it is a trial version), you're set, just upload your art as usual, we'll pick one to display and link to your portfolio in our newsletters. The following artists were selected for Staff Picks -- a FineArtViews blog series -- by FASO staff members after viewing recent editions of the FASO Daily Art Show on the newsletters mentioned above.
Copper Kettle with Oranges and Strawberries by artist Bruce Hancock - selected by Brian Sherwin
(Oil on Canvas Panel)
Artist
Bruce Hancock
strives to capture the people, places, color and culture of America in oil. He captures the energy of a scene by utilizing bold marks and color. The expressive nature of his work documents a moment caught in time. Bruce notes that he is devoted to the study and practice of the art of painting.
Fruit on Satin by artist Amanda Fish - selected by Brian Sherwin
(Oil on Hardboard)
Artist
Amanda Fish
has explored several directions in her art studio. However, she describes still life painting as her artistic calling. Amanda strives to capture the essence of traditional still life painting -- while at the same time upholding a fresh, painterly feel and application. Her dazzling collection is a joy to observe.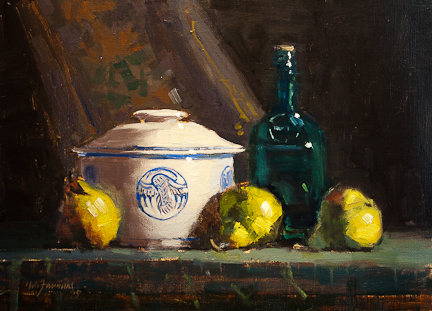 Pears & Crock by artist Mark Farina - selected by Brian Sherwin
(Oil on Linen on Board)
Artist
Mark Farina
creates beautifully rendered paintings. Mark has explored numerous subjects in his studio. His still life paintings capture a sense of magic and reverence. The viewer is invited to observe extraordinary moments in these seemingly ordinary scenes.
My Art Site: Bruce Hancock Fine Art